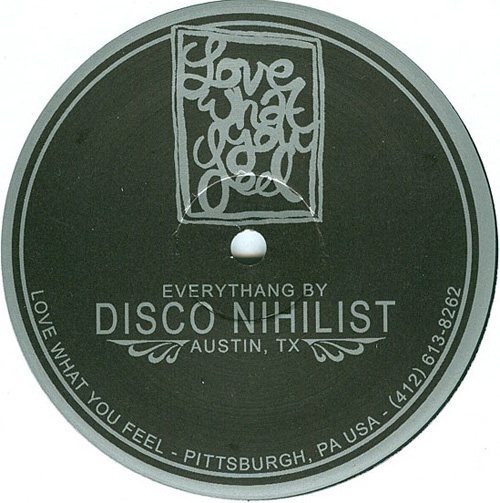 Such a pretty label for Love What You Feel's first release LWYF-001 by Disco Nihilist. This is a new record label by
Infinite State Machine
's Thomas Cox. I'm going to have to get my white label copy out when I get home tonight and listen to it again...right before I vacuum out my record bag and fill it with vinyl so I can transport it to our new house.
And here's the
Little White Earbuds
review of the release. I really like what Shuja Haider writes about the DIY spirit of this release, and of dance music/electronic music in general. That's totally here in Detroit, although no one refers to it as DIY, and they don't call it indie either. It just is. People mostly just explain that after brief stints of seeking out help from other local, bigger name artists, they realized that if they wanted people to hear their music, they were going to have to get it out there themselves. This whole region is just ripe with local, independent record labels, many of whom get their records pressed at
Archer Record Pressing Plant
in Detroit, and then distribute them around the world. Local artists used to be able to get their records mastered by
Ron Murphy
at Sound Enterprises. Mastering in Detroit is momentarily on hold since his passing in January 2008. On hold, but definitely not permanently exiled. Here's an
older post of mine
featuring some words on Ron Murphy and vinyl.